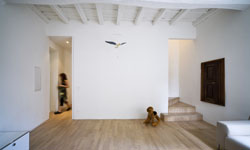 For house renovation, London leads the way. The limited building space, high property values, and the desire to have something nice in return for working hard makes us want our homes to be the best they can be.
My London Builders are one of the City's leading home renovation companies. Our services range from decorating to complete home renovations. We specialise in construction, renovation and refurbishment of residential and commercial properties.
All our trades are qualified, experienced and take pride in their work. We are ready to work on your project and treat your home as if it were our own. We have many years' professional experience in refurbishing residential, commercial, educational and retail properties, and can provide the workmanship to bring your ideas into reality.
House Renovation in London
Interested in our services? Give us a call today

What ever you need, any type of building work, can be done fast, efficiently and for sensible price. We can provide free estimates. Book your estimate now. Just dial 020 8829 0458 and one of our assistants will answer all your questions.
Whould you like find out more about our services?

We have experienced specialists in any type of building works! If you want to find out more about how we could improve your home and pricing please send your question over email and we would be more than happy to answer.
Whether it's a bathroom that needs sprucing up, refitting, a new style, a loft that cries out for light and love, or an entire home that needs modernising, we're the people for the job.
My London Builders have years of experience in the construction trade and can take care of plumbing, electrical, plastering, decorating and general trades. If you want to improve, not move, we're the people to call!
We have the trades on staff to do everything required for every type of house renovation in London. We can plan, design, strip, fit, rebuild, rewire, install, decorate, carpet and even tidy up after ourselves!
Rest assured than when My London Builders are in your home, you're in safe hands.
Home Renovation
My London Builders provide a full range of home renovation services for the interior of your property. We undertake projects of any scale, no job is too large or too small. If you're looking for a builder who delivers on their promises, contact us today. We won't let you down!
Rewiring and Updating
Building regulations change over time, and what was once acceptable practice may not be today. When you're having your house renovated, it may be necessary for it to be rewired or brought up to date. That can include changing the electrics, updating boilers, adding central heating and a range of other jobs. These are all things we can take care of as part of the project.
Kitchens and Bathrooms
The kitchen is the centre of the home, and a room that needs to function efficiently if it is to serve its purpose. My London Builders have skilled carpenters and kitchen fitters on staff to help with these aspects of a project. We can help design, acquire, build and fit any kitchen, in any space. We can also do the same with the smallest room in the house. We can make it a space to be proud of!
With house renovations, My London Builders deliver solid results with the minimum of fuss, delays, overspend and project creep. We cope with the unexpected and deal fairly and transparently with our clients. In essence, we do everything we possibly can to deliver what you want, when you want it.
For the best house renovations in London, contact us today. We won't let you down!