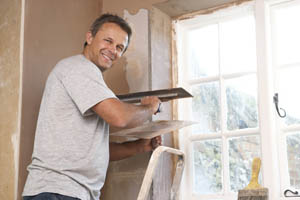 Plastering is an integral part of building construction by My London Builders. We have built our reputation as master builders, in the city of London, with our long experience in the industry. We have a well qualified and experienced technicians and tradesmen such as Architects, Civil enginerers, Draftesmen and tradesmen such as masons, plasterers, bricklayers, plumbers, electricians and Air-conditioning and Heating spaceialists. My London Builders have necessary accreditation from professional bodies and industries and they are fully insured,  as per the local authority regulations.
Plastering is the final stage of construction, and it plays a vital role in the finishing and decorating, which will add tremendous value to the building.  It can be a simple plastering or some ornamental work depending upon the nature of building and the taste of the Architect, complying with local building regulations. Plastering and rendering is an art, and it requires a special skill and experiemce. My London Builders work closely with Architects, so that they will be able to reproduce the result of the Architectural drawing. The materials used and their composition, number of surface coatings required and method of curing, all are important aspects of plastering, to get the final finish.
Modern plastering uses finely slaked Lime, fine sand and resin along fibreglass mats. Lime sand mixture is usually used for interior decorations and also for ceiling but the exterior plastering invariably uses Portland cement. The exterior coat called 'rendering'offen requires ½" to ¾" thick coat using a mixture of sand and lime or cement. Once it is cured, further layer of cement will be coated to 3/16" thick and finished as a wet coat. The smooth and evenly plastered surface is necessary for the final coat before the walls are painted with suitable colours.
Our friendly team is available 24 x 7 and they offer  'no obligation' quote after inspecting your site. We offer a detailed quote outlining the nature of work, materials used, labour charges and schedule of completion and a guarantee for the workmanship. There are no hidden costs and offer you all the information upfront so that you can prepare a suitable budget.
Interested in our services? Give us a call today

What ever you need, any type of building work, can be done fast, efficiently and for sensible price. We can provide free estimates. Book your estimate now. Just dial 020 8829 0458 and one of our assistants will answer all your questions.
Whould you like find out more about our services?

We have experienced specialists in any type of building works! If you want to find out more about how we could improve your home and pricing please send your question over email and we would be more than happy to answer.
The masons, brickleayers and plasters work in unison so that the final outcome is flawless and to the expectation of the owner and the Architecht. We can paint the walls and the ceilings tastefully and aesthetically to suit the interiors. My London Builders can even walk you through the rooms using their 'virtual reality software' even before they commence the work. The customer can see and feel the final finish during such 'virtual reality' show and suggest  alternation if any. We can suggest change of colours to match your furniture, fittings and lightings. We can also do tiling of walls with glazed tiles in kitchens and bathrooms.
My London Builders can undertake the whole range of plastering such as interior, exterior plastering and paintings, replacement of ceilings, plasterboard, and tiling, reparing torn wallpapers and repairing cracks. Whatever may be the nature of work, our technicians are ready to take your call and they will render a reliable and professional service to your satisfaction.