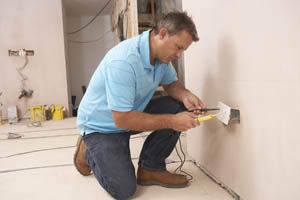 My London Builders, is a construction company based in London. We have qualified architects, engineers and tradesmen, and we undertake new contruction, renovation, refurbishment and servicing the existing buildings. Our service team consists of certified masons, bricklayers, plumbers and electricians, with a long experience in the construction field.
We have class A and class B certified Electricians, who can undertake complete electrical installation for your new building. Thye work closely with Architects, right from the initial stage of preparing drawings, till completion. Electrcial work is an important matter in a building construction. A faulty installation can costs lot of money and even accidents like short circuiting, fire and smoke or even death by electrical shock. Proper earthing and installation of lightening arrester are critical issues, which may cost of millions of dollars by way of insurance.
The electricians must be qualified and experienced, so that they may select right wiring materials, cables, switches, heaters and airconditioners. People can settle for cheaper materials and initial cost, but it may cost lot of money by way of repairs and maintenance for years to come. It is important to use right and durable materials even it costs little more. With increasing use of electrical appliances,  computers and telecommunication equipments, the energy cost is becoming a major cost of living. One should be aware of the energy efficient appliances based on the ratings and carbon footprint. Only qualified and experienced electricians, can offer a proper guidance. The installation should  be certified, by electrical authorities, for compliance and safety regulations. Electricals is a one-time investment, and should be carefully done, to save years of maintenance problems, in the future.
Age old appliances such as 'Incandescent bulbs' can use lot of power, and Aluminium cables may cost initially less ,but may result in frequent break downs and power interruptions and may not withstand power surge in the system. Proper insulation and grounding/earthing are critical matters. Small hike in voltage can inflict heavy damage to your computer or laptop. Inefficient heaters may increase your monthly power bill substantially.
Interested in our services? Give us a call today

What ever you need, any type of building work, can be done fast, efficiently and for sensible price. We can provide free estimates. Book your estimate now. Just dial 020 8829 0458 and one of our assistants will answer all your questions.
Whould you like find out more about our services?

We have experienced specialists in any type of building works! If you want to find out more about how we could improve your home and pricing please send your question over email and we would be more than happy to answer.
Our electricians are well experienced in maintenance and services. They can quickly spot the faults and repair them on the spot. They are certified and they have modern equipments and tools. They can also undertake regular maintenance of your electrical installations, so that one can avoid costly breakdowns and repairs. They can save a lot of money by introducing automation and controls. Supposing, there is nobody in a room, when the air-conditioner is on, a sensor can sense, lack of people in the room, and automatically switches off the air conditioners and lights, and again they can switch them on, whenever somebody enters the room. One can control the house appliances remotely at the touch of a button from your car on the highway.
In this age of Information technology, electrical installation of your home or office becomes not only easier but much more convenient. We have electricians, who can install, operate and maintain even the latest gadgets and appliances. Our technicians are always availabe form 9am till 7pm from Monday to Friday and 9am till 5pm on Saturdays. Our friendly staff will attend your call, and send electricians promptly to your site.