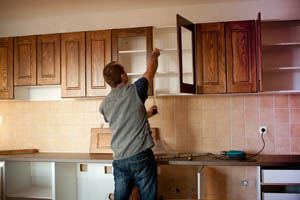 My London Builders has a team of expert fitters ready to renovate or install your kitchen. Fitters in London are ten-a-penny, good kitchen fitters in London are harder to find. That's where we come in.
We have some of the finest builders and kitchen fitters London has to offer. Better still, they are here for you.
We can install a new kitchen, remodel an existing one, and do all types of kitchen renovations. No matter what kind of kitchen you want, our professional and experienced tradesmen will make sure you achieve it. We don't just deliver on our promises, we exceed them.
At My London Builders, we strive to provide high quality services at competitive and fair prices. We try our best to pay attention to every minor detail so as to ensure an ideal fit and excellent quality of workmanship. The success of our firm is based on the contentment of our clients. We do everything possible to cause as little disruption as possible to your property. All while making sure that the premises is kept clean and all waste materials are removed. We do everything we can to keep disruption to a minimum, and work as quickly as possible to get your kitchen back into use fast.
Interested in our services? Give us a call today

What ever you need, any type of building work, can be done fast, efficiently and for sensible price. We can provide free estimates. Book your estimate now. Just dial 020 8829 0458 and one of our assistants will answer all your questions.
Whould you like find out more about our services?

We have experienced specialists in any type of building works! If you want to find out more about how we could improve your home and pricing please send your question over email and we would be more than happy to answer.
We can provide free quotations in advance, to make it easier for you to make up your mind.  At My London Builders, you don't need to worry about any hidden charges that can sour your experience. We provide all solutions under one roof, from selection of the kitchen design, the selection of kitchen accessories, as well as the kitchen fitting.
Fitting your kitchen has never been simpler. Our experts can undertake any task, from redecorating, boiler work, plastering, repairs, to building extensions. Whatever it takes to get the job done, our kitchen fitters and builders do it.
For the finest builders and kitchen fitters London has to offer, call us today!
The city of London is known for the limited amount of living space it has, so you should make the best use of it. With the help of our intelligently and uniquely thought-out space utilisation ideas.
Our unique kitchen designs include fashionable and top of the range contemporary kitchens offering the ultimate in comfort and style. Our team of dedicated kitchen experts will work closely with you and always keep your requirements in mind.
In a nutshell, if you are looking for kitchen fitters in London, then you need to look no further than My London Builders. We have the skills and experience necessary to help you achieve the ideal design for your kitchen.
Our skilled, professional tradesmen can help you envisage the kitchen of your dreams and our flexible and tailored approach means that you can select all features of the kitchen according to your needs and budgetary requirements.
If you're looking to give the heart of your home a makeover, don't do anything until you have talked to us. We have the best kitchen fitters London has to offer, and the business acumen to deliver what you want, when you want it.
For the finest builders and kitchen fitters London has to offer, call My London Builders today!