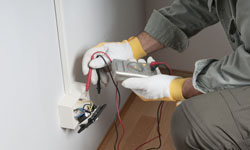 Anyone who owns a home and has had work done in the last 6 years will have heard of "Part P." Part P is often regarded as the bane of London electricians, or more kindly as another way to keep the cowboys out of the industry.
The Department for Communities and Local Government are responsible for maintain the Building Regulations across England and Wales. In January 2005, they introduced an amendment to the regulations in the form of Part P.
The idea was to provide a minimum benchmark for work done in the home, with the goal of lowering the risk of accident and electrical fire through poor workmanship. The actual wording of the Part P requirement is:
"Reasonable provision shall be made in the design and installation of electrical installations in order to protect persons operating, maintaining or altering the installations from fire or injury."
Interested in our services? Give us a call today

What ever you need, any type of building work, can be done fast, efficiently and for sensible price. We can provide free estimates. Book your estimate now. Just dial 020 8829 0458 and one of our assistants will answer all your questions.
Whould you like find out more about our services?

We have experienced specialists in any type of building works! If you want to find out more about how we could improve your home and pricing please send your question over email and we would be more than happy to answer.
When we first heard about Part P, there was nothing good said about it. It was another qualification that we had to get and another hoop to jump through. I have been a spark for the best part of 20 years, and some bureaucrat comes along and says I now have to get something to say I can do the things I have been doing since I was an apprentice?
On the other side of that, it was another method of keeping the cowboys out of the trade, and give us more work. If the homeowner couldn't do as much as they had, it meant more work coming our way. My London Builders has never been busier. We get referrals, contracts and all sorts coming our way. Word gets around pretty quickly when you do a good job.
This sentiment was repeated across the many other London electricians we spoke to. The universal opinion seemed to be that it was more red tape in an already regulated industry. However, as long as the proper checks were made, and customers checked certifications, it meant the cowboy builder or electrician could be squeezed out of the industry.
Another problem with Part P was the increased amount of building inspections that would have to follow. Alan Jackson, another My London Builder electrician had this to say about Part P.
"When 2005 came along, we had two choices. One was to carry on as we were, then have building control come and check everything before signing off. That meant delays and extra cost, as the inspectors aren't exactly quick at the best of times. The other was to get qualified and self-certify the work. That meant time off work and more expense to become certified.
"I went the second route. I didn't want a load of jobs sitting there waiting for sign-off while the building inspector decided when to turn up. I didn't agree with the system at first, but got my Part P anyway to save time and money."
London electricians weren't the only ones affected by the changes. The modifications to the building regulations was country-wide. It isn't difficult to believe that these opinions were shared by electricians across the country. As to whether it has improved safety and lowered fire and accident risk, we simply don't know.
My London Builders uses only the best, most qualified tradesmen. Contact us today if you need anything doing in your home.