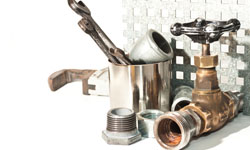 Under normal circumstances, you would thoroughly check out your prospective tradesman to ensure they are up to scratch and will do a good job. When it comes to emergency plumbing in London, you don't always have the luxury of time to do that.
It takes time to check, vet and follow up references on a tradesman to ensure they are good at their word and are worth the trust and expense. In an emergency situation, with water pouring out of the house, or heating that won't come on in the freezing cold, you simply don't have time to spare. You need a plumber right now!
My London Builders have qualified, experienced plumbers on staff who provide emergency plumbing in London. We want all our neighbours to enjoy a good standard of work for an honest price, which is why we're putting together this guide to spotting a reliable plumber.
Certified
Interested in our services? Give us a call today

What ever you need, any type of building work, can be done fast, efficiently and for sensible price. We can provide free estimates. Book your estimate now. Just dial 020 8829 0458 and one of our assistants will answer all your questions.
Whould you like find out more about our services?

We have experienced specialists in any type of building works! If you want to find out more about how we could improve your home and pricing please send your question over email and we would be more than happy to answer.
The very minimum criteria for any plumbing is certification. This is especially important if it's a heating problem, as there will be gas or electricity involved. Anyone providing emergency plumbing in London should have a Gas Safe certification, ACS and Part L certificates.
These are all minimum qualifications for working in residential buildings. Gas Safe replaced CORGI, which is a safety certification to work with gas appliances. ACS is the Accredited Certification Scheme which is certification of basic competency and is allied to City and Guilds. Part L is part of relatively new building regulations requiring competency certifications for tradesmen.
Reliable
Emergency plumbing in London is a lucrative business and one that attracts less than honest characters, as well as quality tradesmen. Even in a crisis situation, it's worth checking with friends and neighbours to see if they know a plumber you can trust.
Personal recommendation is a powerful tool, and one that keeps tradesmen honest. They know that word soon spreads about bad workmanship, so work hard to prevent it. Spending a few valuable minutes asking around it still the very best way to ensure you're paying the right people to help you out.
Trusted Tradesmen
Many councils maintain a list of trusted tradesmen in their area. If the council doesn't, sometimes Trading Standards will. These lists are created through feedback from previous clients and are a good indicator as to the reliability of the plumber.
If asking friends and family doesn't give you a name, this list might. Anyone offering emergency plumbing in London will want to be on this list if there is one, so is a good first stop if you need a good plumber.
Of course My London Builders should be your first port of call if you need emergency plumbing in London. However, we don't expect you to take our word for it any more than we expect you to take the word of anyone else. Do your homework, check us out, ask around. Then, when you have the evidence you need, give us a call. We won't let you down.