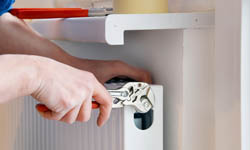 Plumbers are responsible to the installation of complex pipelines and systems that carries water into homes, factories and offices across the capital. They also maintain and repair pipes in all kinds of situations. There are some core skills needed in modern plumbers, London colleges can teach much, but nothing beats hands-on experience as an apprentice.
My London Builders are always looking for skilled tradesmen to work with us. If you're a qualified, experienced plumber give us a call. If you're a customer who needs plumbing services, you can call us too!
Plumbing systems are designed to carry water and waste to and from a building. They also form part of a traditional central heating system. A plumber will also need to know about gas and electricity as a central heating boiler will need to be connected to the supply of one or the other.
From a plumbers London base, they might be required to travel across the city, or country, depending on where the work is. The ability to be flexible is key, especially in a competitive market. The work might not necessarily be on your doorstep so the acceptance of travel might be necessary.
Interested in our services? Give us a call today

What ever you need, any type of building work, can be done fast, efficiently and for sensible price. We can provide free estimates. Book your estimate now. Just dial 020 8829 0458 and one of our assistants will answer all your questions.
Whould you like find out more about our services?

We have experienced specialists in any type of building works! If you want to find out more about how we could improve your home and pricing please send your question over email and we would be more than happy to answer.
What Does a Plumber Do?
Job skills typical of the average plumber can be:
Participating in the design process. In new builds, plumbers work with architects and contractors to make a blueprint of the plumbing system to meet the needs of the project.
Read and follow blueprints. Plumbers who install piping in a new build, or extension follow architectural blueprints to put the pipes in the right place.
Know current legislation and building regulations. This is the most basic of skills, but also the most useful.
Install plumbing systems. Installation requires bending and cutting pipe as well as affixing components through fittings, soldering or adhesive. Sometimes work can be in tight, cramped spaces so flexibility is key.
Use testing equipment. Plumbers use pressure gauges to ensure proper functioning of the system and volt meters to check electrical feeds.
Plumbing courses incorporate education in core technical subjects such as mathematics, physics and chemistry. In addition, practical training in plumbing components, tools and materials.
Ask many experienced plumbers, London or elsewhere, and chances are they love their job. It's practical, rewarding job that has it's bad days as well as the good. The freedom and variety of the work is part of what makes a career in plumbing so rewarding.
Qualified, experienced plumbers are never without work, as My London Builders always have jobs that need your skills.
Many colleges run plumbing courses, which should offer either City and Guilds or NVQ qualifications. Don't rely on just school though, as practical experience is what really counts in the trades. My London Builders want you to have school to learn the basics, and experience to know how it's really done.
The difference between classroom methodologies and real-world methods can vary greatly. What you will know are the tools, the nomenclature, the health and safety and the other myriad of skills upon which to base a career.
Once qualified, many plumbers quickly find work as an apprentice or trainee with a dedicated plumbing firm with My London Builders. From there, it's a simple matter of gaining as much exposure and practice as possible. Then it's a matter of learning the trade, and either working for us or setting up yourself.
If you have the knack for pipes, the intelligence and aptitude to a detailed trade, the world really is your oyster. Give us a call or email us through the site. We'll be happy to hear from you.