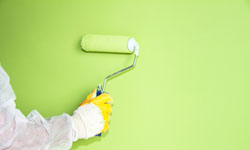 Does your home or office need a completely new look? Or have you moved into a new home or office recently that features décor that doesn't match your tastes?
If so, you need to give your property a decorating makeover. Unless you can manage the decorating process yourself, you need to hire professionals for the job. If you are in search of reliable London decorators, then you need to look no further than My London Builders. We can transform your work or living space to match your personality quickly and efficiently.
These days, office and home owners demand highest possible standards. The experienced decorators and painters at My London Builders are willing to go the extra mile to meet or exceed those standards. It is our company's number one priority to ensure customer satisfaction.
We can handle all aspects of commercial and home redecorating, including property renovation and refurbishments. No job is too big or too small. We have a team of London decorators performing work on our behalf all across the city. We can use as few or as many as a project requires.
Interested in our services? Give us a call today

What ever you need, any type of building work, can be done fast, efficiently and for sensible price. We can provide free estimates. Book your estimate now. Just dial 020 8829 0458 and one of our assistants will answer all your questions.
Whould you like find out more about our services?

We have experienced specialists in any type of building works! If you want to find out more about how we could improve your home and pricing please send your question over email and we would be more than happy to answer.
Our broad scope of London decorator services include:
Internal painting
External painting
Decorating
Wallpapering
Specialist painting
Cornicing
Coving
Door stripping
Paint stripping
Wood varnishing
Wood staining
Antiquing
And much more
At My London Builders, we value the comfort and convenience of our clients. We undertake office and home makeovers while making sure that minimal disruption is caused to the daily activities of everyone involved.
From decorating to painting, we know exactly how to transform a space to suit your tastes and personality. We take our time to precisely understand what you want before initiating the project. That is why we are always able to deliver what our clients expect from us.
Everything from emulsion to frescoes, stencils to exterior walls. If it needs decorating, our London decorators can handle it.
My London Builders offer services throughout the city of London. We are the best in the industry when it comes to quality of finish. We realise how much you care about the appearance of your property and work hard to make decorating a friendly and trouble-free experience.
If you are looking for London decorators who can meet your high standards, without exceeding your budget, you should contact us immediately.
It doesn't matter if you want a traditional, calming ambiance or something that is more modern and stimulating, you can get all your decorating needs fulfilled at My London Builders.
We have successfully undertaken a number of decorating projects throughout London over the years. As well as decorating and painting, we also offer other services including construction, plumbing, plastering, electrics, bathroom and kitchen fittings and so much more.
For the best London decorators in the business, contact My London Builders today. You'll be so glad you did!
All our work is undertaken by qualified, experienced and fully insured decorators, and come with a full guarantee. Everything we do has you in mind. Feel free to ask us for references, we have dozens of people happy to recommend us!