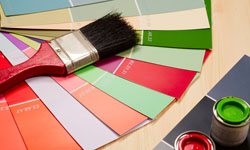 The home renovation revolution is underway. DIY stores have never been busier, My London Builders are booked solid for weeks in advance, interior designers the same, and don't even talk about painters and decorators. London has hundreds of them and they all seem to be too busy. It isn't surprising though, with an interesting economy, few mortgages being approved and many out of work, we can't really afford to move house, so we improve, not move.
That's where My London Builders comes in. We have professional, experienced painters and decorators on staff who can give your home a new lease of life. Give us a call or email us using the form on the page.
Painting and decorating is one of the most basic forms of home renovation. A lick of paint on a wall can transform a room, a scheme throughout room can transform a house. For relatively little money, we can turn a tired house into a modern, classic, contemporary, Georgian, Victorian home. Whatever you want.
If you're doing a complete overhaul, it's wise to call one of our tradesmen to do the painting and decorating. London property prices are sky high as it is, but with a little expert workmanship, a good paint job can not only make your house more sellable, but also add a little to the price too. It isn't as significant as say, a new kitchen or bathroom, but it all adds up. Even if you aren't planning to sell, a well finished room is much more satisfying than an average one.
Interested in our services? Give us a call today

What ever you need, any type of building work, can be done fast, efficiently and for sensible price. We can provide free estimates. Book your estimate now. Just dial 020 8829 0458 and one of our assistants will answer all your questions.
Whould you like find out more about our services?

We have experienced specialists in any type of building works! If you want to find out more about how we could improve your home and pricing please send your question over email and we would be more than happy to answer.
Paint choice is an important consideration, even before we get to colour. Here is a quick rundown of the different paint types.
Water-based paints are odourless, quick-drying and suitable to most walls. The paint doesn't flow as well as oil-based, but it more environmentally friendly.
Oil-based paint smell more and take longer to dry. In return they offer a much better finish and are harder wearing than water-based paints. They contain VOC or Volatile Organic Compounds, which contribute to pollution.
Emulsion is the most popular wall paint as its water-based, dries quickly and has a huge array of colours to choose from. This paint has two finish types, Matt, which doesn't reflect light and isn't washable and Silk, which does reflect light and can be carefully washed clean.
One-coat emulsions are a ticker variety of emulsion that is designed to work with a single coat. To work properly, the wall needs proper preparation, and not be significantly lighter or darker than the colour being applied. Otherwise it will need two coats.
Gloss is the default paint for woodwork and metal. It's strong, hard-wearing, washable and gives a good finish. The surface needs proper preparation to achieve it though.
Non-drip is a specialist paint that has a jelly-like texture to prevent drips. Ideal for beginners.
Eggshell is another wood paint that isn't as shiny as gloss. Ideal if a more subtle finish is required.
If you find all this too confusing, it would be best to call in the professionals to do it for you. My London Builders would be happy to quote. It doesn't cost as much as you might think.