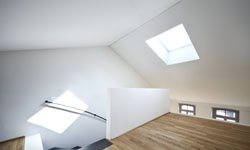 If you live in London, loft conversions are one of the most effective and inexpensive ways of increasing the living space in your home. If you require additional living area but can't afford to buy a new house, then you should use loft conversions to conveniently transform your vacant attic into a bedroom, office, cinema room, gym or anything else you desire.
The drive to improve rather than move is growing all the time. With property prices still at record highs, and finance very difficult to get, it's natural that families want to stay in their homes and maximise the potential it has. An extension or loft conversion is much cheaper than moving house, and can generate quite a bit of new space.
No need to move house, change schools, re-mortgage, leave the area of pack up everything you own. Instead, call in My London Builders to transform your home.
However, in order to successfully undertake a loft conversion project, you will need to hire professionals for the job. For the best in London loft conversion projects, you need to look no further than My London Builders. We offer a one stop building shop for all your property needs.
Interested in our services? Give us a call today

What ever you need, any type of building work, can be done fast, efficiently and for sensible price. We can provide free estimates. Book your estimate now. Just dial 020 8829 0458 and one of our assistants will answer all your questions.
Whould you like find out more about our services?

We have experienced specialists in any type of building works! If you want to find out more about how we could improve your home and pricing please send your question over email and we would be more than happy to answer.
My London Builders specialises in London loft conversions. The area has an almost unique architecture, with the plethora of Victorian terraces, Georgian semi's and 1930's period properties. Each takes a specific skill and a different approach. As we live in the area, we're the natural choice.
We have built a well-respected name in the local market. Our team of London loft conversion experts have years of experience in this field. We can offer you a complete range services from planning, to completion.
We can undertake any type of London loft conversion project including:
Loft ladder Installation
Loft insulation
Loft bathrooms
Loft bedrooms
Loft windows
Velux window installation
Dormer window installation
Rear dormers, side dormer, front dormer
Mansard construction
Loft staircases
Party wall agreements
Loft planning permissions
Hip to gable
Loft wiring
And much more
At My London Builders, we organise our working time to suit the needs of our clients. While working on your conversion project, we will make sure that minimum disturbance is caused to your daily routine. Our name is synonymous with quality, dedication and reliability.
We do everything possible to make sure that the project is completed on time without exceeding the budget. If you decide to hire us, we will send our representative to examine your property and determine your requirements. We will then suggest you a cost effective loft conversion solution that allows you to make the best use of the available space.
These days, it is possible to convert almost all kinds of lofts into stylish, spacious living spaces. That extra space can not only perk up your home but also help boost its value.
With My London Builders, you can be sure that your conversion project is undertaken by highly skilled and qualified personnel, who can complete the task efficiently and quickly without causing much inconvenience or disturbance. When it comes to London loft conversions, there is only one name you can trust, My London Builders.