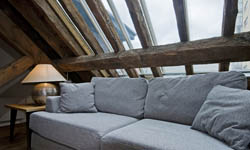 One of the most popular property projects in recent years is the loft conversion. London is full of Georgian and Victorian houses that have no garage or no spare garden space, so scope for extension is often limited. A loft conversion is the ideal way to increase that space, while not altering the fabric of the house too much.
A loft conversion is also one of the more straightforward projects a good London builder can undertake. Like any significant alteration, it's best to get professional advice when considering it. An architect or designer will be able to visualise the finished product and design something that will sit perfectly within the confines of the existing building.
Doing it on the cheap isn't always the best idea. For example, using the converted space for storage, using a drop down ladder and a Velux window doesn't count as extra living area. Using a proper staircase cleverly built into the space allows you to market the room as habitable when it comes to selling.
Whatever your plans, give My London Builders a call. We can take a look and offer advice, information and a competitive quote.
Interested in our services? Give us a call today

What ever you need, any type of building work, can be done fast, efficiently and for sensible price. We can provide free estimates. Book your estimate now. Just dial 020 8829 0458 and one of our assistants will answer all your questions.
Whould you like find out more about our services?

We have experienced specialists in any type of building works! If you want to find out more about how we could improve your home and pricing please send your question over email and we would be more than happy to answer.
The steeper the pitch of the roof, the more suitable it will be for conversion. There needs to be at least 2.3 metres of vertical space to provide enough headroom to use. You can add dormer windows to add valuable space. They cost extra and may need planning permission, but are worth it if the budget allows. The dormer can be the size of a single window or stretch almost the length of the roof. Again, a good architect can advise what's possible and what isn't.
If you want ideas on loft conversions, London is the place to be. Take a walk along the streets around your home and look at the different variations. Many will be at the back, but depending on the aspect, can be at the front too. It's also a good measure of how likely any planning permissions is to be granted. If there are plenty of other conversions around you, it's likely that you can get it if you need it.
You need to ask some fundamental questions before going to an architect or talking to My London Builders. Questions like:
How do the proportions of the new room work?
What will it be used for?
Is there enough head height on both sides of a bed to make getting in and out comfortable?
Have you got a party wall agreement with your neighbours?
Do you want built-in storage in the new room?
Where will you put what's in the roof now?
How much sound-proofing is it going to need?
Is there enough natural light?
How will you heat the room? Is your current boiler big enough to cope with extra radiators?
Will it be well insulated and ventilated?
A loft conversion is not something a DIY enthusiast should not undertake themselves. There is simply too much to plan, design and integrate into the job. There is also the many rules and regulations specific to a loft conversion. My London Builders are the best conversion specialists around, give us a call and we'll be happy to prove it.