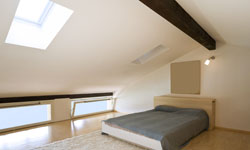 The prohibitive cost of property in the capital prevents many families from trading up their home and gaining more space. Fortunately, there are ways around this that enable you to get more living space without moving home.
One of those ways is loft conversions. London is full of them, they are everywhere. The predominantly Georgian and Victorian houses have steep enough pitches and enough loft space to be converted with the minimum fuss and maximum gain.
While still not particularly cheap, a loft conversion is much cheaper than moving home, and involves much less upheaval. If you're looking for more space, a loft conversion might be the answer.
Contact My London Builders for a free, no-obligation loft conversion quotation today!
Interested in our services? Give us a call today

What ever you need, any type of building work, can be done fast, efficiently and for sensible price. We can provide free estimates. Book your estimate now. Just dial 020 8829 0458 and one of our assistants will answer all your questions.
Whould you like find out more about our services?

We have experienced specialists in any type of building works! If you want to find out more about how we could improve your home and pricing please send your question over email and we would be more than happy to answer.
For superior loft conversions, London building company My London Builders have created an enviable team of professionals who work hard and produce high quality work. We perform everything from the initial loft design, the loft conversion, right through to tidying up after ourselves at the end. We take care of everything.
Some of the services we offer include:
Loft design
Loft conversion
Loft ladder installation
Loft insulation
Loft bathrooms
Loft bedrooms
Loft windows
Velux window installation
Dormer window installation, including rear dormer and side dormer
Mansard construction
Loft staircases
Party wall agreements
Loft planning permission
Hip to gable
Loft wiring
We can help with gaining planning permission, building inspections, loft design, the conversion and everything else involved. We can convert the space to any use including playrooms, bedrooms, bathrooms and home office space.
We can also add skylights, Velux windows and dormers. In essence, we take care of everything for you.
Beginning your loft conversion project couldn't be simpler. It begins with a friendly chat with a My London Builders surveyor who will discuss basic details about your home, and the project that you have in mind.
We will take detailed measurements, produce a detailed project plan and agree a complete specification for the work.
We will also provide a timescale and schedule which you can fully expect us to keep to, barring any unforeseen circumstances. Once we have agreed the details, we can provide the quotation.
We will provide you with a comprehensive written quotation detailing all the work we agreed. You then have all the information available at your fingertips. Should you choose My London Builders to undertake your loft conversion we will adhere to everything agreed. If necessary, we can provide all relevant drawings and seek planning permission on your behalf.
All the loft conversions My London Builders undertake will meet all building regulations, will come with all relevant certifications, and adhere to any planning permission sought. Essentially, we do everything we agreed to do, at the price agreed, in the time agreed.
For no-hassle loft conversions in London, My London Builders are the firm to call. Contact us today for a free, no-obligation quotation.
If you want more living space and a potential property value increase of up to 15%, call us on 020 8829 0458. We'll take care of everything.