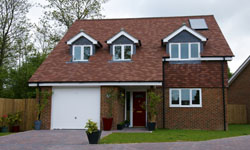 If you're short of space but can't afford to move home, converting a garage into more usable space is an option that's too good to ignore. For the garage conversion, London is the top of the board. With property prices the highest in the country it's no surprise that homeowners are turning to extensions and conversions rather than moving.
If you need more space, but don't want to move or extend, then a garage conversion might be for you. People are turning them into offices, playrooms, extra living space, or utility rooms. Clever integration and planning can even extend existing rooms into the space, the favourite is adding a "wing" onto a kitchen. When done properly, it looks seamless and adds a significant amount of space to the room.
Unless you drive a convertible, chances are that you never use the garage for storing the car. Most often it's an extension of the garden shed or loft. A storage space for boxes, old stuff and junk. When you need more space in a home, the garage is too good an opportunity to miss. That's why they are so popular. Ask any reputable London builder, and they'll tell you their waiting list will contain at least one garage conversion. London is going conversion mad.
My London Builders have a portfolio full of successful conversions and happy customers. We're the ideal choice if you're planning such a project, so give us a call and we will be happy to discuss it with you.
Interested in our services? Give us a call today

What ever you need, any type of building work, can be done fast, efficiently and for sensible price. We can provide free estimates. Book your estimate now. Just dial 020 8829 0458 and one of our assistants will answer all your questions.
Whould you like find out more about our services?

We have experienced specialists in any type of building works! If you want to find out more about how we could improve your home and pricing please send your question over email and we would be more than happy to answer.
The garage conversion is likely to be long and narrow, so thought must be given to how you use the space. If you're planning a room in its own right, then an office or playroom won't worry about those proportions. If you're using it as an extension of another room, more thought may be needed.
Many people have added a downstairs cloakroom to the far end of the room to shorten it a bit while adding much needed facilities. That shortens the room by around 1.5 metres, which makes the remaining space much more manageable.
As always, there is an element of bureaucracy involved. You may need permission to make the changes. My London Builders will be able to advise you, or you can call your local planning office. In some boroughs, you won't need planning for a change of use that doesn't increase the volume of the building. In others you will. Check first before planning the garage conversion. London is full of planning officers looking for houses that don't comply, don't be one of them!
If you're planning a full conversions My London Builders integrate the new brickwork into the existing one using tooth and bond. This will ensure the new room looks like a part of the house rather than an extension. We need to match the window as well, as long as your existing ones are double-glazed. New building regulations stipulate all new windows are to be energy efficient, so it might be a good time to have new windows too.
A clever trick is to keep the existing garage door and build a wall a metre or so behind it. That way the exterior of the house is maintained, you don't have to move gas meters, fuse boxes and any other utilities in the garage and you get to keep a smaller storage space for your stuff.
Whatever you plans, talk to My London Builders about them before spending money. Get us to quote, check planning permission, and ring in the changes. Garage conversions are a great way to add space to a home without breaking the bank.