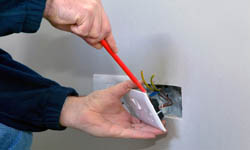 There are still plenty of viable careers in the construction industry that are useful elsewhere, such as an electrician. London firms are always advertising for suitably skilled and qualified sparks as there is such a shortage of properly skilled workers. My London Builders is no exception. We are always on the lookout for qualified people with high standards.
Even though the construction industry has taken a huge hit over the past couple of years, My London Builders still keep themselves busy with conversions, extensions renovations and other home improvements. Just because the new-build work is no more, doesn't mean the construction industry isn't a great place to be.
So how do you become an electrician, either straight from school or as a career change?
The first thing you need to do is research. There are two main types of electrician, installation electrician and maintenance electrician. Installation electricians work in houses and businesses rewiring or installing appliances. Maintenance electricians work in factories and other places on machinery and other equipment.
Interested in our services? Give us a call today

What ever you need, any type of building work, can be done fast, efficiently and for sensible price. We can provide free estimates. Book your estimate now. Just dial 020 8829 0458 and one of our assistants will answer all your questions.
Whould you like find out more about our services?

We have experienced specialists in any type of building works! If you want to find out more about how we could improve your home and pricing please send your question over email and we would be more than happy to answer.
The easiest way to become qualified is to get a job as an apprentice and do the City and Guilds qualifications. City & Guilds run the scheme and continually assess work on the job to ensure the pupil knows the practical aspects of the job as well as the theoretical.
For older career changers, It's possible to retrain at an adult college, either evenings or day release. This requires quite a lot of commitment as it can take a few years to become fully qualified. Your local Jobcentre Plus has training advisors who can help you find the right path to becoming a qualified electrician. London has dozens of them, just check the phone book or the Jobcentre website.
It's worth talking to them as it may be possible to do a Joint Industry Board (JIB) approved course through government-sponsored training for adults. That will help with the costs at the very least. The Electrical Contractors' Association produces an education and training pack that you might find useful too.
Be aware of companies offering qualifications in four weeks. These courses are hard, intensive, and train you to pass the exams, not to do the job. While they will get you the paperwork to be able to work commercially, they don't give you the necessary experience to do the work. My London Builders won't want you if all you have if the certificates from one of these cram courses.
Being an electrician is a practical trade that also needs theoretical knowledge. You will need to know how electricity works, how it's conducted, generated and how to protect yourself from it. You will need to know the symbols in drawings, how to read blueprints and how to work with other trades. Often the work of an installation electrician will coincide with that of a plumber or heating engineer, so an appreciation of their work is essential.
So despite the downturn it's still viable to make a successful career as an electrician. London has plenty of courses, resources and firms wanting keen, intelligent people to work with them. Just don't get tempted to cut corners and concentrate on the certifications rather than practical experience. Both are as valuable as each other.
My London Builders always has a place for experienced, qualified tradesmen. Our client list demands high standards of workmanship, which is why our own standards are high. If you're an electrician, or need electrical work done, call My London Builders now.