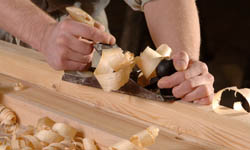 Each trade has its own set of tools, techniques and language that confuses the outsider and takes a while to understand. One such trade is carpentry. London is full of highly skilled carpenters, who make their living with wood. It's one of the oldest professions in the world, using one of the most flexible, useful and beautiful building materials known to man.
My London Builders love a good carpenter, and they can be hard to find. However, when we get a good one, we look after them. In order to better understand the carpentry trade, Balham-based carpenter, Roger Brown, talks us through an average day.
Roger has been a carpenter since leaving school at 15. He apprenticed the old fashioned way and went on to become a jobber, then joined My London Builders. Roger now oversees five carpenters who work throughout the city on our behalf.
"My day starts early, I still go out on jobs and like to be first on site when I can. Sometimes I have to collect the boys on the way, depending on where it is, other times I'll meet them there. It's easier to go in one van, less parking, only one congestion charge and all our tools are in one place.
Interested in our services? Give us a call today

What ever you need, any type of building work, can be done fast, efficiently and for sensible price. We can provide free estimates. Book your estimate now. Just dial 020 8829 0458 and one of our assistants will answer all your questions.
Whould you like find out more about our services?

We have experienced specialists in any type of building works! If you want to find out more about how we could improve your home and pricing please send your question over email and we would be more than happy to answer.
When it comes to carpentry, Londoners everywhere love their wood. That means I could be in Westminster one day and Haringey the next. Even though I live in Balham, we cover the entire city, there's too much work out there to stay in one place.
First job of the day is a quote. A firm of London builders I have worked with before needs an architrave repaired in an old house in Clapham. That's just down the road, so I'm there in 20 minutes. It's an old Georgian house that's having a complete renovation. The woodwork is in a right state, and would need to be replaced.
The quote takes an hour, then I'm on my way to Vauxhall to check on a couple of my boys. They are putting stud walls in an office block near the river. Easy enough work, but I like to make sure everything's going okay. A quick chat and a cup of tea later, I'm back in the van and heading over to Regent's Park. I eat my lunch in the van.
Here I do another quote for a new set of interior doors in a massive town house that has been converted into flats. Part of me hates seeing these lovely houses ruined like that, but part of me knows that very few people could afford to live there otherwise. I meet the project manager and provide the quote. It's another builder I have worked with before, so it's all good.
My last call of the day is at Belsize Park, an affluent area near Camden. Here I'm collecting payment for a job I just finished, repairing skirting that had been ripped out while the house was empty. While I'm there I'm asked to fix a sticking door. Ten minutes with a plane and it's all done. No charge, these are regular customers.
I didn't get much woodwork done, but that's life. Tomorrow I'm working onsite helping with those stud walls, next week we're helping out at one of the Olympic sites. You never know what the day is going to throw at you, so not only do you get to work with wood, which is lovely, you're always on your toes.
As far as I'm concerned, the best job in the world is carpentry. London is also the best city in the world to do it."
My London Builders have a team of qualified carpenters on hand for any job large or small. Give us a call, or email us using the form on the page. If you're looking for high quality workmanship at a sensible price, call us now.