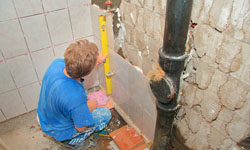 After the kitchen, the bathroom is the room that most sells a house. While you may not be planning on selling up just yet, it's an important consideration if you're planning to replace a bathroom. It means that the redesign can be viewed as an investment rather than a cost. There's no shortage of anything in the city, bathroom designs, designers, bathroom fitters, London has it all.
To be honest, talking to My London Builders is the first thing you should do. We have years of experience fitting bathrooms in all sorts of spaces. We have the ideas, the knowledge and the enthusiasm to build the right one for you. We're here to make your dreams a reality.
Depending on the budget you have, you can have a bathroom designed specifically for the space, or buy one off the shelf and make it fit. The former is the best option all-round except for cost. They cost considerably more than a shop-bought one, but the end result is so much better.
Not everyone can afford such a thing, so it's a good job that the standard of store-bought bathrooms is so high now. You can easily specify a high quality bathroom and have it installed by our professional bathroom fitters. London has a plethora of design shops, DIY stores, and specialised bathroom shops to choose from so there's no shortage of inspiration.
Interested in our services? Give us a call today

What ever you need, any type of building work, can be done fast, efficiently and for sensible price. We can provide free estimates. Book your estimate now. Just dial 020 8829 0458 and one of our assistants will answer all your questions.
Whould you like find out more about our services?

We have experienced specialists in any type of building works! If you want to find out more about how we could improve your home and pricing please send your question over email and we would be more than happy to answer.
For most of us, the bathroom is the smallest room in the house, which means space is at a premium. For an effective family bathroom, storage is key. Using space cleverly is the key to planning a great family bathroom and is something that needs proper thought to get right. If you're going the shop bought route, there is a large Swedish company that specialises in small spaces. It might be worth checking them out.
While storage is vital, for a bathroom to work, it also needs to be low key. Good options are under sink cupboards, shelves in a recess above the toilet, cupboards in recesses and small boxes at the end of the bath, or in a corner. A double sink is also eminently useful, especially if you have children. They are also a modern concept and something future buyers appreciate.
While it may be tempting to do away with a bath in favour of a larger shower cubicle, don't if you can avoid it. We are attached to baths for some reason, even if we don't use them. A prospective buyer is likely to discount the quality of the bathroom if it lacks a bath, even if you have installed a wetroom in its place. My London Builders will offer any advice you need and will offer a competitive quote for the work.
All surfaces should be wipe clean. Nobody wants to spend ages cleaning the bathroom. Tiles are still the number one choice, and designs are now available that reflect almost any taste. Tile the floor too for that really professional look, with under floor heating if the budget allows.
Fitting the bathroom yourself is okay if you have plenty of time, patience, and are good with your hands. Otherwise it's most definitely a good idea to hire professional bathroom fitters. London has plenty of them, such as My London Builders. If you want an effortless home transformation without the fuss, call us now.